Hey there!  I was talking to Laura the other day about how when she gets married, she needs to consult me on what to put on her registry, because I had a couple of things that were my absolute favorites.  You really don't need to wait until you get married to get these things, but if you are putting together a registry, I highly recommend them!  Or, if you are struggling to figure out what to get someone, here is a great start.  These items have a wide range of prices, so you should definitely find something to fit your budget!  I registered at Macys and Bed Bath and Beyond, so that is why the links will take you there, but I'm sure that you can get lots of these things other places.  Also, if you do get them at Macy's or BB&B, PLEASE use a coupon or wait for them to be on sale.  There is no need to waste your hard earned money 🙂 While watching the items on my registry, I noticed that Macy's puts almost everything on sale at some point, and most of the items go on and off every few weeks.  If you can wait, just watch for a week or two and I bet the price will drop!
Feel free to share your favorite items in the comments, I would love to hear your opinions!
1. Stainless Steel Non-Skid Mixing Bowls
Ticket price – $39.99
I use these bowls in nearly everything I make.  The size variation is awesome because I can use them from everything from beating scrambled eggs to tossing and serving a dinner salad.  I like that they come in a set of 3 because I often use more than one at once.  They clean up really easily, and I even put them in the dishwasher when I'm feeling really lazy. (photo credit Macys.com)
Ticket Price – $499.99
Don't be scared off by the ticket price on this baby… First, the price is variable.  I believe I have seen it closer to $350 a time or two.  Also, it is well worth it.  I expect my mixer to last just as long as my marriage – the rest of my life!  The attachments are convenient, but I mostly use the regular mixing attachment pictured in the front.  Recipes that I used to dread are made easy by this awesome machine!  I have even used it to shred chicken.  That discovery saves me about 15 minutes of painstaking shredding each time.  Again, I sometimes put these parts in the dishwasher also.  I wouldn't put the whisk attachment in there, but everything else seems to do okay. I 'm all about the easy cleanup! (photo credit Bedbathandbeyond.com)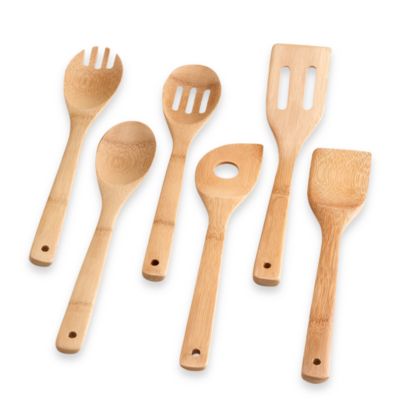 Ticket Price – $5.99
No, that wasn't a typo. These are really under six dollars for six pieces.  They're great because you can use them to serve, mix, stir, etc.  They don't damage our nonstick pans.  The bamboo is moisture resistant, so you don't have to worry about bacteria or them not coming clean.  Speaking of clean, guess how we clean these??? You guessed it – the dishwasher! (photo credit Bedbathandbeyond.com)
Ticket Price – $79.99
To give you an idea of how good of a deal you can get on some of this stuff, this bakeware set is currently on sale for $49.99 with an additional 10% off.  Please don't pay full price.  Anyways, I will get off of my thrifty soap box.  Unfortunately, the exact set that I have is no longer available, but this set is similar.  The key here is the plastic and glass lids.  The glass ones are for going in the oven and the plastic ones are for storing it after.  The best thing about these dishes is that they serve triple duty – You can bake in them, then put them on a hot pad right onto the table and serve from them, then, once they cool, pop on the plastic lid and you have air tight fridge storage for leftovers.  Win!  It also helps that they go really well with our dishes, which brings me to #5… (photo credit Bedbathandbeyond.com)
5. Dishes Set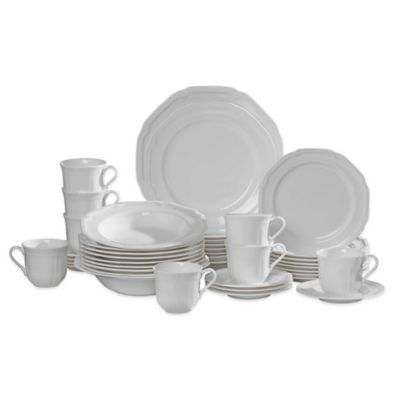 Ticket Price – 8 place setting for $199.99
These dishes are the ones that I picked, and I am in love with them.  However, I'm not trying to sell you on this specific set.  I just want to sell you on the importance of getting some nice cohesive dishes that you really like.  I love having people over and using real (not plastic or paper) plates that all match.  I prefer the simple classic look of these (and I anticipate them being suitable for years to come due to their simple appearance), but choose what you like! And, if you don't have the funds for an entire set, get 4 or so place settings, so you can have a sit-down meal with 4 people and all have the same dishes.  These specific dishes are great because they can go in the oven (great for keeping pancakes warm), the freezer (good for cooling down something you over-heated), the microwave & the dishwasher (do you really think I would've picked them out if they couldn't go in there?? Come on!!) (photo credit Bedbathandbeyond.com)
What are your favorite grown-up kitchen and entertaining items? I would love to hear about them!